Astrovideography
Using the Samsung SDC-435 (SCB-2000) video camera for astronomy
by Steve Wainwright
The Samsung SDC-435 (SCB-2000) is a frame accumulating camera that is about 35% the price of a Mintron video camera.
It should be noted that the Samsung SCB-2000 is the same camera, re-named by Samsung following company reorganisation.
I am experimenting with the SDC-435 to determine whether it is a credible alternative to the Mintron.

---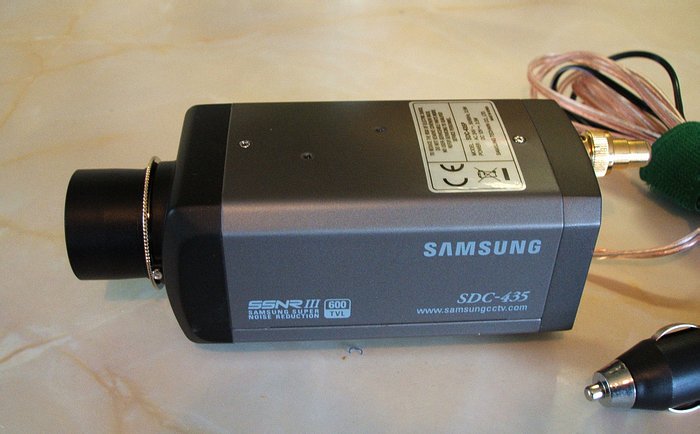 The latest entries are at the top
---
Page 4 January 28th - 2011
---
Page 3 October 11th - December 9th 2010
---
Page 2 August 15th - September 29th, 2010
---


Page 1 April 21st - August 12th, 2010


---
---
Read or download this short story about light trespass and see if you can use it to help the cause of dark skies.
---
Compendium of results on
---
Related pages for downloading our software
VOB File extractor Featured in Astronomy Now, November 2009

---
Dark-Frame Scaler Featured in Popular Astronomy, April-June 2010

---
Aspect Ratio Correction To correct the Aspect ratio of BMPs derived from DVD VOB files

---
---
---